Why should you support Maddie's Footprints?
Over the first 13 years of Maddie's Footprints being in existence, we have been able to directly touch over 2,500 families in Acadiana and Greater Baton Rouge and help them through one of the darkest times in their lives, paying out over $1,300,000 in funeral and medical expenses to ease their financial burden, while supporting them emotionally along their journey.   
We give families a soft place to land when they are going through the toughest time of their lives, and we surround them with other families who understand what they are feeling even before they say a word.
After moving to Maddie's from a national nonprofit, I can say that I could not be happier to be here. Maddie's staff is passionate, hard working and dedicated to taking care of as many  families as we can.
For anyone who has a loss, please don't hesitate to reach out to Maddie's Footprints for the support that you deserve. Even if you choose not to take advantage of our financial support ( all are helped regardless of income), please consider clicking on the "Programs" tab and join us at one of our support groups. Even if your loss was years ago, and you have never had the opportunity to tell your baby's story, here is your chance. A new family is waiting for you.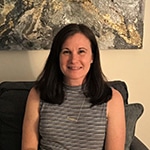 Edie Couvillon Aymond
Executive Director