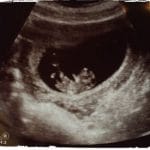 In January of 2015 we found out that we were expecting our third child. We were so happy and thrilled. The previous few months were emotional because we were not having success in getting pregnant. For our first two boys we never had any issues getting pregnant. It was very discouraging. We came to understand the heartache many families go through with infertility. My husband was working out of state when I found out I was pregnant. I told him over the phone and he was so happy. I started brainstorming ideas on how to tell our family. I decided to make a random photo book of our boys. At the end of the book I put a photo with a sign announcing the pregnancy. The surprise ending was such a great and fun way to remember everyone's individual reactions. Everyone was so surprised and thrilled.
At this time in the pregnancy we were living in my husband's hometown. We were planning to move to Youngsville in April. I found a doctor in Lafayette and started commuting three hours to prenatal appointments. I remember feeling so happy in life at this point. Unfortunately, at the end of February my husband was laid-off from the oil field. We were so heartbroken. We were looking forward to our first house being built. We cancelled our contract with the building company and decided to find something to rent and move earlier. We moved March 10th. We were so happy to move. We had worked toward this move for years. We wanted more opportunities for our boys and us.
My first trimester consisted of the usual symptoms constant nausea, fatigue, and food aversions. I was healthy before and during my pregnancy. In April, my husband was still looking for a job and we were living on our savings. On April 23rd, 2015 at 17 weeks 4 days, we elected to get an early gender reveal ultrasound. We were so happy to find out that our third child was a girl. I had always dreamed of having a little girl. I looked forward to painting her nails, fixing her hair, and dressing her up in cute outfits. After the appointment I was so happy I bought her three outfits. The days after the appointment I remember feeling like it was to good to be true. We were actually pregnant again and having our first daughter. I hung her dress up in the kitchen so I could look at it everyday. It made me smile J. Around this time I also started feeling her kicks. On Tuesday April 28th I got an unexpected call from my doctor. My doctor said that the quad screen results came back that our daughter had a 1 in 15 chance of having trisomy 18. She said it was a genetic disorder and this was something very serious. My doctor also expressed that there was a 35% chance of getting a false positive result. She said the next step was to schedule a level two ultrasound with a Maternal Fetal Medicine specialist. As soon as I got off the phone I started researching Trisomy 18. I was terrified at what I was reading. The information summed up in saying that most babies with Trisomy 18 do not survive. Only 10% of babies with Trisomy 18 make it to their first birthday. My husband and I were terrified and filled with questions, emotions, and denial. Why was this happening to us? This can't be true! Everyday I started to count how many times I felt her kick. She was such an active little thing. We had to wait eight days for the level two ultra-sound. It felt like an eternity. Many tears were shed in those eight days.
At 19 weeks 3 days, May 6th 2015 we were scheduled to see the specialist that morning. The ultrasound tech came in and explained to us that she was going to take some ultrasound photos. Then the doctor would come in and answer any questions we had. The silence in the room was unbearable. We were thinking…is our daughter ok? Does she have any of the common markers? Inside I was an emotional wreck. I kept telling myself don't break down. Be strong! The doctor came in introduced himself and explained he was going to look around on the ultrasound as well. As he was looking, he mentioned that there were some factors that were concerning him. She had some physical markers like clenched hands, choroid plexus cyst, undeveloped heart, and extended heals. These were all markers of Trisomy 18. The doctor explained that babies with trisomy 18 are "incompatible with life". The doctor said that there was only a 20% chance a baby with trisomy 18 would make it to full-term. The doctor said that if babies with trisomy 18 do make it to term, many are stillborn, or live for minutes. The doctor also mentioned that there was only a 20% chance she would make it a month and only a 10% chance to her first birthday. We were devastated. We were given the choice of abortion. That was not what we wanted. We were then given a couple of options to confirm her diagnosis. We could get a blood test, or amniocentesis. When we got home from the appointment that afternoon we looked at each other and broke down. We were so sad, worried, and scared of what the future held. My husband was unemployed and we had just got the worst news of our lives. That same day we decided on the amniocentesis because it was 99% accurate. We went into the specialist office later that day. I was very nervous. It did worry us that there was a risk of miscarriage with an amniocentesis. I was also nervous about a needle going in my belly. The doctor reassured me that it would feel like a small cramp. The amniocentesis was done very quickly and the doctor told us the results would be in in about three days.
On Monday, five days later we got the news that we were dreading. Our beautiful daughter had trisomy 18. We had a prenatal appointment that next week with my OBGYN. My doctor also discussed with us the diagnosis and that this was a "fatal condition". We asked many questions. We asked if she had ever seen any babies with Trisomy 18. She said she did and some died during pregnancy, some were stillborn, and some survived only minutes. We also discussed "comfort care". This is when no interventions are done at birth and a family is allowed to spend time with the baby. Weeks went by and we tried to live life normally. It was very hard. I cried a lot. I was in the middle of my pregnancy now, physically starting to get uncomfortable, and extremely stressed out. At this time I was also trying to study for my real estate license, and my husband was still looking for a job. We couldn't afford Cobra health Insurance any longer, so I applied for Medicaid the previous mouth and we got approved. My doctor did not take Medicaid, so I had to switch. I felt very stressed after calling doctor's offices and getting denied. I was so far along in pregnancy and I was considered a high-risk pregnancy. With the help of another doctor, I found a doctor and my next scheduled prenatal appointment was June 17th.
It was very hard to go out in public and get asked about my pregnancy. People would ask…What are you having? When are you due? It was easier just to answer and pretend like everything was ok. At this point it was very hard to enjoy the pregnancy. I often asked myself…Should I buy baby clothes? Baby bed? Should I get the room ready? Should I have a baby shower now? We both tried to focus on life. I tried to focus on my real estate examine and care for my two boys. My husband continued to look for a job.
At appointments we asked questions and began to realize that doctors knew very little about babies with Trisomy 18. It was hard to accept that our daughter was defined solely by her diagnosis and not as an individual. We were constantly reminded of the statistics. We knew what the statistics were. We wanted to know about her. We learned in future appointments that she had a possible VSD and possible ASD. I expressed my desire to see a pediatric cardiologist. On June 9th, we saw the pediatric cardiologist and he expressed that she had a medium size VSD. He explained that at birth an echo would be needed to fully understand her heart. We were relieved to know that her hole was smaller than we thought. On that same day we decided to call her "Lily Beth Lazarus". We wanted a name that represented something special and we chose Lily because it meant "beauty, and purity".
On June 15th, I passed my real estate examine and started working part-time. My husband also got a great job around this same time. I continued to go to doctor appointments to check on Lily. We asked questions every time. We honestly thought I would miscarry in pregnancy. I was getting into my third trimester and praying more and more we would get to meet our sweet girl. I started researching more into the SOFT (Support Organization for Trisomy Families) organization, to learn about trisomy 18. One of my many concerns was how I should deliver. I previously had two cesareans but my first doctor brought up possible VBAC with Lily. I found a social group of parents on Facebook. This group was such an inspiration to me. I quickly found other moms in the area to ask questions and advice. I asked many questions about VBAC vs. C-section, length of pregnancies, weight of their babies, and complications each child experienced. I learned that babies allowed to grow longer and bigger did better at birth. I was able to learn that most babies had trouble with eating, gaining weight, and tolerating formula. Many children needed a g-tube and a specialty formula to help with these issues. I also learned that many had a VSD and other heart issues. Medication was used to help with the negative side effects. Surgery was later needed to fully fix the heart. The SOFT and other parents also had recommendations on physicians who were willing to do surgery. It was very common to be turned down simply because of the high-risk diagnosis of trisomy 18. I would have been lost without the SOFT organization, the parent group, and the mothers I met. These resources showed me that many do survive and live happy lives. I read about fetuses to a 34 year old with trisomy 18.
In my third trimester I decided I was going to try and enjoy my pregnancy as best I could. I started a page for Lily on Facebook called "Lily's Journey". I posted photos of my pregnancy throughout our Journey. We did a sneak peak around 33 weeks pregnant, to make more memories. We invited our family to join in on our experience. I was able to find a great photographer through "Now I lay me down to sleep". It is an organization with contacts to photographers. These photographers volunteer their services to families with the loss of a child.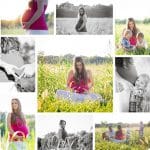 I did a belly cast to capture how big Lily grew. It was not easy to do a belly cast at 39 weeks but I am glad I did it. We started going to the weekly appointments. At the end of my pregnancy I was getting more anxious as I got closer to my due date (September 27th, 2015). Lily was continuing to gain weight and her heart rate was in the normal range. My new doctor was very open-minded. He listened to what we wanted. He agreed to let me go over my due date, as long as everything was normal. I was showing no signs of labor, so we decided to schedule a cesarean on October 9th, 2015. The day of the cesarean was a day filled with many emotions. We woke up very early that morning to head to the hospital. It was around 7 am when I went into the operating room. I remember feelings some comfort that there were so many healthcare providers in there with us. I do remember the neonatologist coming up to me explaining that they would not intubate Lily because of her diagnosis. My husband and I already knew that this would not be offered. This was not uncommon. We had checked into another hospital and this was their belief also. I read many articles and stories were parents had to fight for intervention. All we could do was pray that she would breath on her own. As I was lying on the table I felt excited and terrified at the same time. I wanted to hear everything that was going on so I tried not to cry and break down. It helped that there was a nurse telling me what was happening. The moment finally came that we had waited for, for 41 weeks 5 days. Lily cried right when she came out. Then I heard silence. I was crying with joy but then not sure what was going on. They were bagging her a couple of times. She started to cry again and they brought her to me. I had waited and prayed for this moment for a very long time.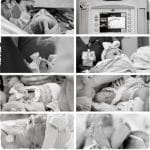 The neonatologist and the NICU nurses quickly took her to the NICU to be monitored. After I was stitched up, I was wheeled into the NICU to see Lily. She was lying there so full of life and absolutely beautiful. J She was born October 9th, 2015 at 7:51am, 5 pounds 7 ounces 19.25 inches long. I was very nauseous and dizzy from the anesthesia, so I decided to wait until it wore off to go see her again. All of our family was there to check on her. I was so ready to see her again. I was able to go later that night around 8:30pm. Lily was doing so well. She was on a very small amount of oxygen. The next day Lily was feed for the first time. She was feed colostrum through a feeding tube, through her mouth. She tolerated the breast milk, so the doctors gradually went up on her amount. Lily started to slowly gain weight. She got off of oxygen within a few days. I stayed in the hospital for four days. I was able to see Lily and start establishing some milk. We also started to work with the occupational therapist and she taught us how to orally feed Lily. She would only drink a few milliliters then get tired out and her oxygen would drop. I knew from doing research that many babies with trisomy 18 had trouble breathing, sucking, and swallowing all at the same time. We continued to work with her and we expressed to the OT that we would be ok with a g-tube. The morning of Lily's surgery was emotional. We arrived there at 8am. We visited with her and told her how much we loved her. We took a video and some photos of her. The respiratory therapist came to intubate her for surgery, so we stepped out for a bit. It was not easy to see our sweet girl with a tube down her throat. At 11 days old Lily got her g-tube put in. It was a very minor and quick surgery but we were still very worried. She did well with surgery and was going to be able to eat through her tube in two days. Lily was introduced food through her g-tube Thursday October 22nd. She tolerated the milk through her tube, so the nurses gradually went up again to her normal rate. In the NICU there are three things a baby must accomplish before going home. They must eat, breath, and regulate their temperature on their own. Lily had just made it out of an incubator into a regular crib before her surgery. She was able to breath and regulate her temperature on her own. The surgery was going to help her eat and be able to come home. It took about a week and we finally got the news Lily would be coming home. I had to room-in at the hospital October 28th, 2015 to learn her care. This was a business day for us because we closed on our house that morning. I started packing the rest of our kitchen and we started to move everything that day. I was also pumping milk every 3 hours. It was a very busy but exciting day. Around 4 pm that afternoon I went to the hospital to be with Lily.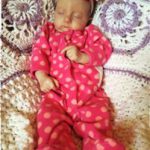 On October 30, 2015 at three weeks old Lily got to come home. We were so thrilled to bring her home. We were even more excited to introduce her to her two brothers. Luke who was 3 and Beau who was 2. This was the first day they met her and they were such proud brothers. J Our first night was rough. She stayed up most of the night. I think things were new to her and she knew it. At this point she was on a bolus feed during the day at 11am, 2pm, and 5pm. During the night she was on a continuous feed with a feeding pump. The breast milk had to be changed every 4 hours so it would not spoil (8pm, 12am, 4am). I was also trying to continue pumping every few hours. It was not a simple task keeping up with her feeding schedule, and breastfeeding. The first two days home were on a weekend and we had nowhere to go. It was nice to be home in our new house with Lily and our boys. She was such a sweet and easy baby. As long as she wasn't hungry, in pain or cold she was happy. She was still so tiny at 6 pounds. Newborn clothes fit her the best. The next week we had two appointments. We saw the pediatrician on Monday. On Friday we saw the cardiologist. He prescribed her first two medications. This would help prevent any negative side effects from her hole in her heart. That next week Lily turned one month old. We saw the pediatrician that very special Monday. The pediatrician increased her Neosure formula in her breast milk, to increase her calories. This was going to help her gain more weight. On Wednesday Lily, the boys and me went to a follow up appointment to the Pediatric surgeon. After three bathroom breaks and repeatedly telling my boys "don't beat on the glass" of this toy there, and two hours later we got into the appointment. The nurse practitioner said her g-tube looked great. I ask some questions and she answered them. I was pleased to hear that her g-tube area looked good. I had tried two different methods to keep the area clean and she said the best one is probably using the gauze. She said it was best to keep it dry. The doctor was super sweet and compassionate. He held Lily awhile while I took my son to the restroom. When I came back he said he rocked her to sleep.
On Friday November 13th my sister came to visit. She watched my boys while I brought Lily to go get her weight checked. Lily gained about three ounces in four days. This was such good news. She was at 6 pounds 6 ounces now. We could only give Lily a small amount of food because of her heart. Every ounce and calorie she got counted. (My sister and my mother did so much for us while I was in the hospital having Lily and rooming in with Lily. My sister watched my boys when Lily was born. After I got out of the hospital my mom watched the boys for us in the morning and after they went to bed everyday, so my husband and I could go visit Lily in the NICU. My mom unpacked the majority of our house when I was rooming in at the NICU. We couldn't have done it without them.) The following Monday we had an Audiologist appointment for Lily. Lily passed her test quickly. The Audiologist explained that she wouldn't have passed the test if everything wasn't developed in her ears properly. I was so happy to hear this. Lily passed her hearing test with flying colors. J On Wednesday Lily had an appointment with her pediatrician. She had gained more weight. She was now weighting 6 pounds 9.5 ounces. Every ounce she gained was closer to her getting her heart repaired. The cardiologist had expressed that 10 pounds is usually how big they should be for the surgery. On Friday we saw the cardiologist. He decided to increase her volume at each feeding. I was excited because this was going to help her continue to gain weight. Unfortunately, this was the start of her choking episodes. She spit up at the first few feedings at the new volume. This was not a good sign. This meant that she couldn't tolerate the new increase in volume. On Sunday she spit up pretty bad coming up through her nose and mouth. It scared me because she let out a scream. She couldn't catch her breath. I put her in choking position to help her clear her throat. We called the on call service and the Cardiologist called us within minutes. He said to go back down to the normal amount but keep the continuous at the new rate since she was tolerating that.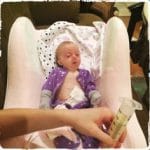 Thanksgiving week was the first week we had been home without any appointments. We spent time together at home. We decided not to get out and expose Lily to any germs. The next week we started off with an appointment to the cardiologist. He was pleased with her weight gain. She was 6 pounds 15 ounces. He also gave me the option to gradually go up 3-5 milliliters on her feedings, to get more calories in her. She had an echo done at this appointment and he said there were no signs of congestive heart failure. This was good news. I was worried about this because she slept all the time.
On December 10th Lily had her two-month pediatrician appointment. She got her two-month shots at this appointment. I discussed many things with the doctor at this appointment. I wanted Lily to have a sleep study. I had an Owlet sock at home and it showed her oxygen dropping in the 80's at night. I also asked the doctor if we could do anything about Lily's reflux. She suggested Zantac, so I was excited to give it a try. I also requested to get a referral for a GI doctor for Lily. Lily had three shots that day and she was in pain. I called in to get her dose for Tylenol. The Tylenol helped her relax and sleep. At this point Lily was also having about two reflux episodes a day. She would turn red, strain, and hold her breath because her food would reflux in her throat. This was not fun and very scary. I worried to leave her side because she might have one when I wasn't looking. The next week my husband was working out of town. He traveled a lot with his new job. It was a huge challenge to take care of Lily, my boys, and continue pumping. My mom helped out a lot when he was gone. She would help watch my boys, cook supper and clean my house.
On December 16th we went to the sleep study center. The sleep study tech hooked her up to wires from head to toe. She was literally covered in wires pore thing. She really didn't seem to mind as long as we let her sleep. It wasn't long and they did have to put her on oxygen. Her oxygen was dropping while was sleeping. She had trouble getting comfortable that night. I had her propped up on a pillow and she was used to sleeping in her bassinet. She tossed and turned and moved one wire off many times throughout the night. I pumped once that night. I also had to keep her on her continues feeding and change her milk every four hours, like usually. Lets just say when morning came we were so glad to be headed home. My mom gladly stayed longer to let me sleep a couple of hours. (In my third trimester it was hard to sleep. My amniotic fluid was higher than normal because of her diagnosis. I would wake up with horrible pressure in my chest and have to sit up in the recliner to sleep. After she was born, I was getting up at night to pump. When she got home, my last pump for the day was usually around 10-11pm. After I was done cleaning the pumping supplies, I had about an hour to sleep then switch her feeding. I usually got 3-4 hours most nights. Physically, mentally, emotionally I was exhausted.)
That same week Lily started with some symptoms that worried me. She started having head sweats. I could not keep clothes on her. This was completely opposite from when she came home. I had to put her in a fleece button up and cover her with two blankets. She also had a bad smelling gas. On Friday she had a cardiologist appointment. She weighted 7 pounds 2 ounces at this appointment. She was stalling in weight again, so he increased her formula supplement. On Sunday she went without a wet diaper for a long time, so I brought her into the emergency room. The doctor admitted her because he thought she was dehydrated and her heart rate was really high. She really wasn't physically feeling bad, I was just very cautious with her. We never really got a straight answer. Doctors just said she could have a possible viral upper respiratory infection. We were good to go home Christmas Eve, but unfortunately had to stay. We were waiting on oxygen for her. We ended up staying over Christmas. It wasn't what we planned but it was ok. I was just thankful she wasn't worse. There were so many people who came visit the pediatric unit during Christmas. Lily got so many gifts from volunteers. On Christmas day a pony was there to give gifts to all the kids. I also met many wonderful nurses during our stay. We stayed in the hospital 6 days waiting on our insurance company to find a company, negotiate and supply oxygen. On December 30, 2015, ten days later we finally got to come home with oxygen. While she was in the hospital the cardiologist added another heart medicine. She also started having trouble with constipation because of the increase in formula in her milk. We requested to get a stool softener for her. She was now on five different medicines taking certain ones at 8:30am, 10am, 6pm, 8:30pm and 2am. She was about 7 pounds 11 ounces when she got out of the hospital. This was great she had gained 9 ounces in 9 days. This was her biggest gain yet. It was 7:30pm when we got home from the hospital. It was so nice to be home. I missed my boys so much. The nurse was almost there. (We started getting nursing services at night about mid December.) I was exhausted from being in the hospital for so long. As soon as we got home it was time to get her ready for bed. I also had to learn how to use the new oxygen concentrator and update the home health nurse on the two new medications. Then I started to prepare her milk for the night feedings.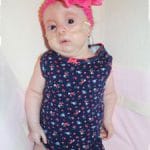 On Tuesday January 5th Lily had a follow-up with her pediatrician, after the hospital visit. She tested her for RSV and flu and both tests were negative. I told her about the head sweats, constipation, and more frequent reflux episodes. She said to keep an eye on her temperature for pneumonia and check it rectally because it was the most accurate. On Friday we saw the cardiologist. She was at her highest weight yet 8 pound 2 ounces and 22 inches long. She was on the right track she had gained 1 pound in 20 days. J We talked about a PA band to help Lily's heart. He said he was going to get in touch with the cardiologists, pulmonologist, and surgeons to schedule a consult for Lily. I was so excited to here this. This surgery was going to help her get stronger to fully fix her heart. I heard from the nurse from New Orleans that next week. She said Lily had a schedule appointment with all doctors January 27th. I was so excited for these appointments and to hear what the doctors had to say. On Tuesday January 12th we had an ENT appointment. The doctor did a scope to look at Lily's development. She said everything looked good, her larynx, vocal cords, and she did not mention a tracheotomy. This was good news because other doctors mentioned she might need a tracheotomy. On Thursday morning October 14th, we headed to Baton Rouge for Lily's first GI appointment. (We had been waiting to go to this appointment for over a month. We needed to get these reflux episodes to stop. She was having at least four a day now. They were very scary. She would reflux food from her stomach into her throat and have trouble clearing her throat. She would turn red, strain, and hold her breath.) We arrived at the appointment. My mom, my boys, Lily and me headed to the office. It was such a nice day. The doctor decided to change many things that day. She switched her formula supplement to a very sensitive and non-dairy formula. (I was familiar with this formula because another mom I knew used this formula with her daughter, who also had Trisomy 18. It worked well to help her put on weight.) The doctor instructed me to quit drinking milk and stop eating cheese, to eliminate the dairy in my breast milk. The doctor said the reflux could be due to a milk allergy. This formula was perfect for Lily. Lily was at another stall in weight. She hadn't gained any weight in a week. She also changed her medicine Zantac to Nexium. She also changed Lily's feeding schedule. Lily was now going to feed every 3 hours over an hour on her pump. The doctor said that the continuous feeding was not good for a baby with reflux. This was great the pump would administer a perfect amount for Lily over a gradual time, hopefully preventing any reflux. After the appointment I started Lily on her new regimen and we headed home.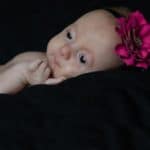 Lily did not have any episodes that afternoon or that night. The next morning she was uncomfortable. She had a lot of mucus in her nose and was having trouble breathing. I decided to bring her to the emergency room. The x-ray showed a lot of fluid in her lung. She had pneumonia. I was so confused. How could this be? She has had multiple doctors and nurses listening to her lungs daily. Apparently, it is not easy to hear fluid in a baby's lungs. We stayed that night. She was uncomfortable. The breathing treatments would help her. She was eating every three hours, having antibiotics every 4 hours, plus her regular medicine schedule, and breathing treatments every 4 hours. We did not sleep that night. I held her hand a lot and talked to her. I tried to make her comfortable. The next morning January 16th she was looking better. She was not breathing as hard and about to fall asleep after her feeding. Her blood test showed that her potassium was low, so the nurse brought some potassium to give to her. I gave it to her. The supplement made her poop. I called the nurses in to help change her. As we were changing her she started to aspirate. I could hear it in her lungs. Before I knew it she was not breathing and they were doing CPR. She was lying there so helpless. I wanted her to be ok. I was so upset. Unfortunately she didn't make it through. We invited some family over to the hospital to spend time with her. We were so devastated. Our sweet girl wasn't with us anymore. That day was very hard. She took a turn for the worst we weren't expecting. We had a beautiful service for her that next week. We had many family and friends who helped us any many ways. We are so thankful for all the help, love, and support. It has been six weeks since she pasted. We still miss her so much. She was so sweet, and feisty. We think about her everyday. I am so thankful for the time, and memories we did have with her. She will always be in our hearts. I don't think anyone is every prepared to loose a child. I have to say it is one of the hardest things we've ever experienced. We love and miss you sweet girl!

Whitney, P.D., Luke and Beau Lazarus